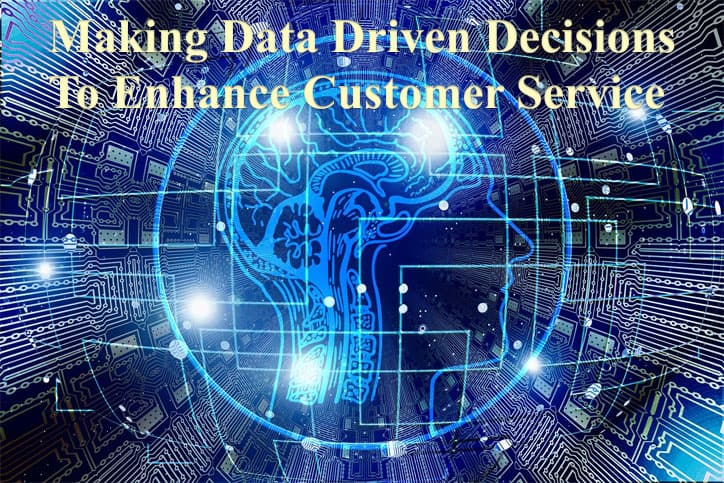 Making Data Driven Decisions To Enhance Customer Service
In this digital era, data is the new currency. It's with data that businesses can make shrewd decisions and innovations within their daily operation in order to streamline functionality, bolster sales, and improve customer service. And since there is so much data being collected on a daily basis (some 1.7mb per person, per second), why aren't more businesses harnessing its power?
What is data-driven decision making?
Data-driven decision making is about adapting and keeping up with the current, as opposed to repeating previous decisions based on dated tactics. The fact is, the playing field is forever changing, and as the goalposts shift about, business owners who wish to succeed must pivot in order to remain on target.
It's about making decisions with solid intelligence and information analysis based on data collected. By conducting market research and fusing your findings with automated data collection software, you can make informed decisions that will invariably improve the health of your business and act as key performance indicators.
Modern businesses who are adapting their methods to incorporate data-driven decisions are enjoying an 8-10% increase in profits, with a 10% reduction in running costs. This boost can not only increase your pipeline for sales but also help to deliver a higher standard of customer service across the board.
How to adopt data-driven decision making for increased customer satisfaction & sales
If you continue to raise the bar and innovate at every given opportunity, you will be able to exceed your customers' expectations and improve customer retention rates. Over 60% of leading companies in their field use data and intelligence when making decisions that directly impact growth and diversification. The fact that they are leaders in their industry stands testament to the value that comes with analysing and adopting data.
Naturally, it can be rather difficult for business owners to start making data-driven decisions as it involves an entirely fresh mindset and approach to doing business. It's easy to get set in your ways and the longer you stick with something, the harder it can be to let go. We understand that. Though if it makes you feel any better, the data doesn't lie! It's a numbers game, and provided you have an excellent product and great copy to back it up, you should thrive with a data-driven business model.
Let's have a look at some of the techniques that you can use to implement data-driven decision making for improved customer service & sales.
Invest in SFA (sales force automation tools):
There's nothing more tiresome than tracking sales activities manually. Your time is precious enough as it is without wasting it on something which can be handled instantaneously with the right software. With an advanced sales force automation tool, you can pass off the time-consuming tasks such as lead gen, deal-tracking, and follow-up emails.
SFA tools can also be used to delve into existing customer relationship management software in order to provide vital metrics and information. Taking information such as sales calls, outcomes, and closed deals can enable business managers to better monitor business situations.
Better understand your customer:
The more details you have on the customer the better. Your sales representatives need to understand every aspect of the ideal customer; what their concerns are, their objections, their wants & desires, and so on. With this vital understanding, not only will your sales team have greater success with closing deals, but they will also provide a much higher level of customer service. Every consumer wants to be understood!
Adopt advanced CRM tools with customer detail tracking capabilities—past purchases, demographic data, support issues, and any personal notes that might help build a rapport. In addition to that, customer help desk software can be used to speed up the resolution of future interactions by allowing agents to be proactive in their approach with up-to-date and historical data before them.
Machine learning – AI is the future of customer service:
Machine learning is a new and innovative technology that is constantly learning and adapting in order to act and think like a human. They can analyse past customer records and interactions in order to determine which approach will lead to a positive outcome, and which to avoid. These tools can also be used to enhance the customer/agent relationship, by providing vital information on-screen in real-time.
Source data and use a tool that can present it well:
In order to make data-driven decisions, you will need to gather and store relevant information for your sales and marketing team to analyse. You must also be certain to collect data from reliable sources. In addition to that, you must use a tool that has advanced reporting capabilities, so that you can present your data in a simple and visual manner that is both functional and easy to digest.
Embrace the world of data and fuse it with your business model:
Data is the future and in order to keep up, one must embrace that. Which means fusing it with your company culture and making your employees well aware of the fact that data will be the driving force between your operations going forward.
You should train your employees on how to accurately make an informed decision using data. Work together to build data-driven strategies based on factual figures. Re-adjust your copy and ensure that your brand voice resonates with your new approach. Make every decision based on a customer-centric and data-driven approach and you will experience significant growth and success in the future.