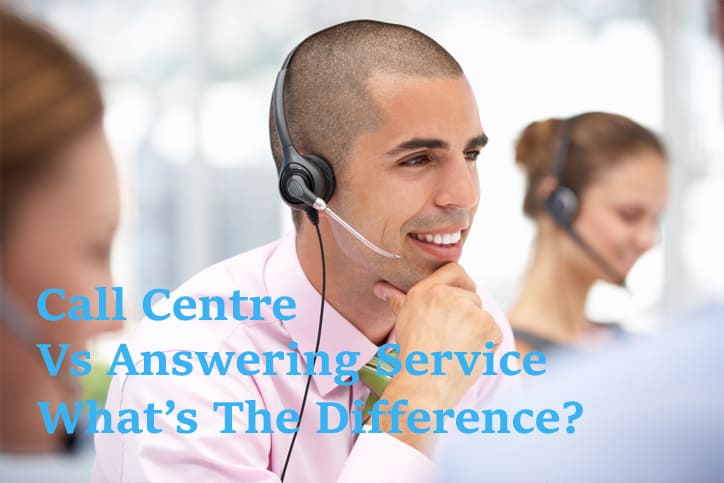 This is an important question as it's all too easy to get the two mixed up. In this article, we're going to explore the clear difference between the two and the way in which they might benefit you. That way you can make an informed decision as to which service will be better suited for your business at this time.
What is an Answering Service?
This service is designed to help you control your call volume and to answer the phone in a timelier manner. This is particularly important for small businesses that are experiencing significant growth and may not have enough time to man the phones all day.
For the most part, an answering service is designed to exchange and process information more effectively. When hiring an answering service, your incoming calls will be answered by a live operator who can then efficiently attend a number of different caller requirements:
Offering basic information
Solving regular customer service problems
Booking appointments & consultations
Passing on messages to various departments or person/s
There are a number of industries that favour answering services for handling the higher call volumes that they receive. For example: for those in Doctor's surgeries, real estate, property management, emergency call-out plumbing services and so on; a 24/7 answering service with a virtual receptionist  can be useful, as the inquiries are generally relatively straight forward and result in booking an appointment.
The answering service representative will be armed with a set of steps that they can take based on the type of call that they are dealing with. The end goal is to assist the client and offer as much information as they can so that you and your employees can focus on carrying out your day-to-day operation or focusing on the important calls that require your immediate attention.
Think of it as a screening service of sorts. The professionals providing the answering service will handle the large majority of calls, and for the more complicated cases, they can pass the caller over to the appropriate department. Again, most calls will be relatively straight forward and so the average duration of a call through an answering service is typically quite short.
What is a call centre?
Whilst a call or contact centre might seem to be very similar to an answering service, there are some clear differences that will influence which one is better suited to your requirements. For example, as established above, an answering service is favoured by those with high call volumes with relatively straightforward inquiries. However, a representative in a call centre will tend to spend longer on the phone as the issues can be much more complicated.
So, if you are likely to receive more sales related calls, or an operator may need to access a CRM system to obtain detailed information on the client in question, then a call centre would be the most appropriate solution.
Call centres tend to have large teams of operators, set out in rows of individual workstations. The operators often work with a variety of different clients, though in some special cases, they will work with only the one. Again, this will depend on your individual requirements and the industry that you're in.
So, for the most part, a call centre operator will be trained to answer the phone in a specific, branded way, and will be armed with the tools required to handle complex situations and even process sales for your business. Let's say for example that you are a large chain of stores selling home improvement goods & materials. Naturally, you will be likely to receive a large influx of calls with very specific informational requests. In addition to that, you may receive callers looking to place bulk orders for certain materials. Thus, a specialist operator and a longer call duration will be expected.
Of course, if the caller's issues go beyond the capabilities of the call centre operator, then they will be passed onto management or the appropriate department.
How can I decide which service is more suitable for me?
For smaller businesses or those whose callers typically require elementary information or a simple booking process, then an answering service tends to be more appropriate. Then, for larger businesses that have complex CRM systems, individual client accounts and a sales-based platform, then a call centre will likely be the best solution.
If you're not sure and you would like further information, please do not hesitate to contact us today. We will be able to answer all of your questions and to point you in the right direction.